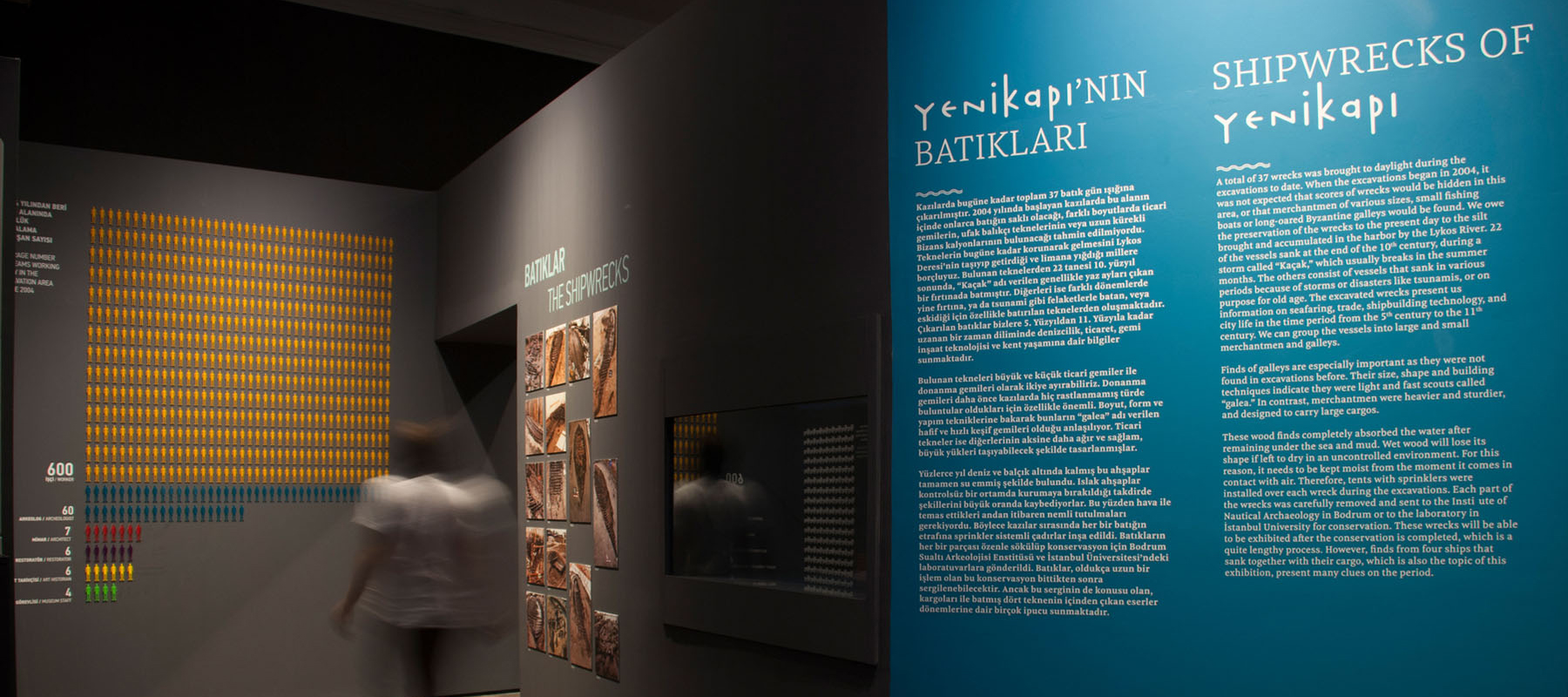 Shipwrecks of Yenikapı
Istanbul Archaeological Museums
2013
Scope of work:
Exhibition, Graphics, Interaction design and Animation scenario
Client:
Istanbul Archaeological Museums
Area:
400 m2
Project Detail
STORIES FROM THE HIDDEN HARBOR: SHIPWRECKS OF YENİKAPI
In 2004 Istanbul Archaeology Museums started a salvage excavation in Yenikapı, the site where one of the biggest transportation projects of the city was being built. For the first time in the city's history, archaeological excavations were conducted at one of its ancient harbours.  At first Ottoman remains were encountered in the excavation area, which covers over 58,000 square meters. Then, one of Constantinople's most important, and world's best known harbours, the Theodosian Harbor, was reached only 1 meter below sea level.
In 2005 an unexpected find, a shipwreck was found. As the excavation area expanded, a total of 37 shipwrecks, dating between the 5th and 11th centuries were brought to light. The Yenikapı shipwrecks constitute the largest collection of shipwrecks ever found together.
Another surprise was waiting for the archeologists, 6,3 m below sea level: Istanbul's oldest settlement. This Neolithic settlement dates back 8000 years and changed the writing of Istanbul's history.
As the excavations go on uninterrupted, we have now acquired much new information about the city. The exhibition "Stories from the Hidden Harbor, Shipwrecks of Yenikapı" aims at presenting the visitors a  part of the artefacts from the on-going excavations and providing them a clearer look to the cities past.
PATTU has refurbished a part of the museum, that was used as a storage for a long time. Together with Istanbul Archaeology Museums we have worked on all the interpretation of the content and text, laid out the story in space, designed the displays and the space, designed the interactions, created small documentary clips and designed the exhibition catalogue. The exhibition invites the visitor to a fun journey into Constantinople's past.
Sponsored by
Koç Foundation

Project by:
Cem Kozar, Işıl Ünal
Assistants:
Riccardo Cespi,Elisa Caporaletti
3d Modelling and Animation
Zafer Üstüner
Motion Graphics: 
Hürcan Emre Yılmazer
Sound Consultant: 
Mine Erkaya
Sound Design: 
436 Media
Ateş Erkoç, Can Kanmaz
Harbor Hologram Programming
Selçuk Artut, Alp Tuğan
Filika Interactive Design
Video Projection Area Hardware Support
Bilsa Bilgisayar ve Teknik Cihazlar